Book doctor's appointments online
TimeSloth Appointments is the perfect appointment booking solution for doctors. Our application connects seamlessly with your existing doctor's software and gives you the opportunity to make your appointments bookable online for patients.
Advantages for you as a doctor
Reduce workload and phone calls
By using the TimeSloth Appointments online booking system, you reduce the time you spend on the phone, so you can focus on medical issues rather than organizational issues.
Seamless integration into your existing doctor's software
TimeSloth Appointments offers easy integration with your existing doctor's software (currently Windoc and Easyordi). With our flexible API interface, you can easily connect and manage all your patient bookings in your usual doctor's calendar, without any additional effort or phone calls.
Flexible appointment management
Decide for yourself which appointments you want to offer to book online and which not. Distinguish between types of appointments (e.g. vaccination, discussion of findings, etc.) or collaborating doctors.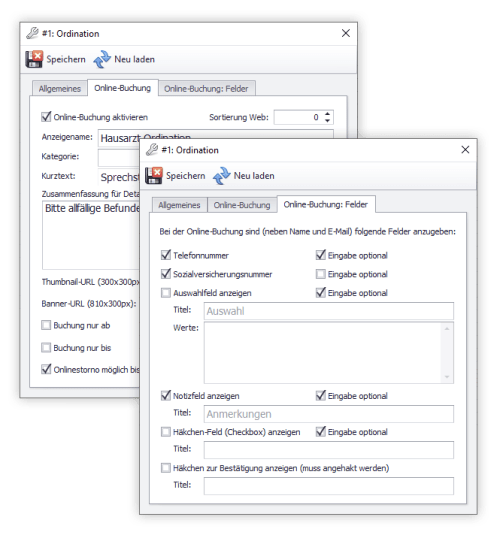 Easily install the booking plugin on your website
TimeSloth can be integrated easily and flexibly into your existing website, e.g. as a dialog, button or iFrame. Of course, it doesn't matter how your website is technically structured. Learn more…
Benefits for your patients
Book appointments without waiting
Your patients can see at a glance which appointments are still available without having to call your office. With just a few clicks, the desired appointment can be booked quickly and easily, 24/7 - regardless of your office hours.
Desired appointment with the doctor of your choice
Do you offer different types of appointments (e.g. vaccination, discussion of findings, health check-up, etc.) or do you have several doctors working with you? When booking online, your patients choose which appointment with which doctor they would like to request.
Appointment confirmation via email
After successfully booking an appointment, your patients will receive a confirmation by email. A phone confirmation with your ordination is not necessary. If you wish, a link for uncomplicated cancellation can be included.
Convinced?
If you would like to use TimeSloth Appointments for your practice, please contact your doctor's software vendor. If your doctor's software is not yet connected to TimeSloth Appointments, why not ask anyway? We are more than happy to collaborate with other vendors.
TimeSloth Appointments is available as an annual subscription for a monthly price of €38.40 (incl. VAT) – test the booking plugin for 14 days without obligation and free of charge.
If you have any questions, feedback or problems, please contact the manufacturer of your doctor's software.